More effective international transportation with the expansion of the European railway lines.
The railway network improvements connecting Italy, Switzerland, and Germany, all the way to the Ruhr region, are strengthening the logistics supply chain to and from the Dutch harbors.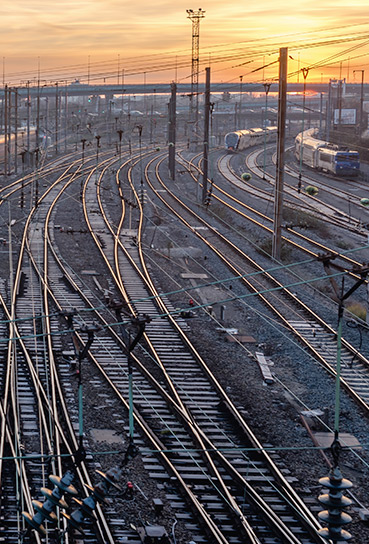 In the upcoming years, the delivery of goods coming and going through Rotterdam – the largest seaport in Europe – will become faster than ever. We are moving towards an increasingly efficient and sustainable expansion of the railway lines from central-southern Europe to northern Europe.
The development program is not only very ambitious. It also tries to minimize any potential inconvenience for goods delivery and civil transportation during these extraordinary interventions. This will be the case for the Rhine-Alps corridor, where mobile construction sites will be put into place on the entire section to prevent any issue with regard to merchandise and commuters, as the railways infrastructures expand.
European logistics will be way more efficient when this relevant upgrade will be over, both on the Italian front (towards Chiasso) and on the Swiss side towards the Rhine Valley, all the way to the Ruhr area.
Other significant interventions will concern Germany's northern areas, specifically between Berlin, Hamburg, and the border with Denmark. This will simplify trading to and from Italy, and create a corridor starting from the Scandinavian countries which will cross Denmark, Germany, and Italy.
What we can foresee from this picture is that international intermodality will become the logistic industry's central approach to commercial shipping in our continent, along with an increase in the number of railway lines. For more information on intermodality, read our in-depth analysis here.
We recommend that all firms targeting the European and international markets – along with companies in the logistics industry – start evaluating the shift from transportation via trucks to freight trains. The goal? Being ready to access the variety of benefits that the expansion of railway networks will offer soon.
As we take into account the increasingly pressing restrictions applied to trucks in the Alps region, particularly at the Brenner border on the Austrian side, transitioning from tires to rails almost becomes a necessity.
To make the most out of rail transportation, firms will need to accurately plan their work in advance in order to fit into the complex railway scheduling system. For more information, we advise our blog post: "Logistics on rails. Let's plan together the future of goods delivery."
At Lanzi Trasporti, both intermodality and railway transportation are available solutions we suggest to our customers as winning options, especially given our know-how and the investments we made. Adapting to the new supply chain approaches is not an easy endeavor, so you can count on us to make the process simpler and deliver the best possible results. Write to info@lanzitrasporti.it, we will start planning the future together.