Lanzi Trasporti: between multimodal and intermodal transport
Combining different means of transportation is definitely the most effective solution to deliver large volumes of wares over medium-long distances. It inevitably requires strong organizational skills and a team equipped with the right tools and know-how, especially when delivering via freight trains.
In the previous article we talked about intermodality and the transportation of heavy loads over medium-long routes, and we mentioned its inherent advantages in terms of environmental sustainability and lower costs.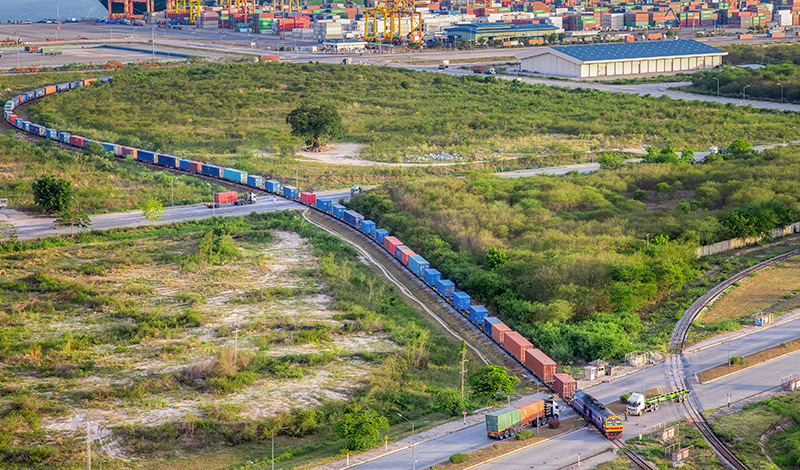 We also spoke of multimodality (formerly known as conventional intermodality) and the difference between one and the other. If you missed out, click here to learn more.
By investing in wagons and railway terminals, multimodality has become an important aspect of Lanzi Trasporti's operations. We possess the necessary equipment and expertise to plan and transfer individual items from one vehicle to another, but there is more to it.
Our firm has recently succeeded in achieving complete intermodality: we own a self-propelled crane (reach stacker) which can handle containers, swap bodies and semi-trailers. This allows us to guarantee further safety to the goods we deliver, as we can keep the loads sealed until arrival. The crane allows us to move the containers from vehicle A to B in a smooth fashion, and they can also be placed in dedicated yards. When it comes to relocating swap bodies and semi-trailers, a maneuver inevitably more complex than moving containers, we employ a piggyback to ensure a flawless operation. The whole process is carried out efficiently thanks to our professional and capable operators.
Having that said, Lanzi Trasporti is now able to cover 100% of the intermodal transport operations. An investment that goes hand in hand with our decision to open up to rail transport, which in turn leads to a more eco-friendly supply chain and more cost-effective deliveries.
Lanzi Trasporti is at your disposal to meet your needs by covering a plethora of services and offering a variety of solutions.